As we continue to celebrate Women's History Month, it's important to learn more about the women who have had such an impact on our lives today.  Meet Dorothy Rice (courtesy of AFGE).  Like the movie, "Hidden Figures," this article highlights the accomplishments of federal government employees and the impact that they have on our lives today.
Medicare is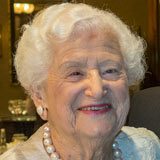 one of the most popular government programs in the country. Its played a key role in providing health insurance coverage to Americans age 65 and older as well as younger Americans with specific medical conditions or disabilities.
It works so well that 70 percent of Americans believe Medicare "should continue as it is today with the government guaranteeing seniors health benefits and making sure that everyone gets the same defined set of benefits." A majority of Americans also told pollsters over and over that they support the program and prefer a federally funded health care system or Medicare-for-all to cover all Americans.
So Medicare has been immensely successful. But do you know how Medicare came to be?
Without the important research of one public servant, federal economist Dorothy Rice, it would have been nearly impossible to make the case for such an important government program. Rice passed away on February 25 at 94-years-old, but has left a legacy that all Americans are grateful for.
How Medicare Was Created
The Social Security Administration (SSA) administers Social Security, the highly popular national retirement program created in 1934. Dorothy Rice was an analyst at SSA when her agency did a study on aging. Her 1964 research found that half of all seniors, about 8.5 million, were uninsured. Those who were 65 and older were the most in need of health insurance, but were the least likely to have it.
Rice's work informed a national discussion on whether the country should have a national health insurance program.
"[Because of Rice's research] people really came to understand the needs of the Medicare population and really contributed to the popularity of the program," said Karen Davis, a professor at the Bloomberg School of Public Health at Johns Hopkins University, as reported by the New York Times.
Efforts to create a national health insurance program date back decades, most notably during the Truman administration.
President Truman had tried several times to get Congress to create a national health insurance program for every American, but his efforts were met with resistance from powerful, profit-hungry medical lobbies. Those groups vilified such a program as "un-American."
In 1957 a small group of congressmen led by Rep. Aime Forand (RI – District 1) came up with an idea to create a smaller, more targeted national health insurance program for older Americans to be administered by SSA. Forand knew the wide impact that a lack of health care could have on an American family. In fact, the congressman was forced to quit school in the seventh grade to take care of his ailing father.
Soon, the group of lawmakers put together a proposal and Medicare was born. The proposal was gaining popularity in Congress, but when President John F. Kennedy tried to get a Medicare bill passed, the American Medical Association (AMA) launched a PR campaign that trashed Medicare, saying it would "put the government smack into your hospital" – similar language used by today's politicians to justify the repeal and replacement of the Affordable Care Act.
At the time, AMA had an ally in the powerful Committee Chairman Rep. Wilbur Mills (AR – District 2). A staunch advocate of fiscal conservatism, Mills refused to bring Medicare up for a vote. Medicare continued to be held up, until President Lyndon B. Johnson and pro-Medicare legislators won in a landslide victory in the 1964 election.
When President Johnson eventually signed Medicare into law in 1965, President Truman, who had been invited to sit beside him during the signing ceremony, was given a Medicare card, making him the nation's first Medicare beneficiary. Elizabeth "Bess" Truman, the former first lady, became the second.
A Woman of Her Time
That important research on aging was not the only thing Rice did that had a major impact on the country's health care landscape.
At the National Center for Health Statistics, Rice established new standards and spearheaded studies on health care costs across the country, including on particular illnesses.
"I developed study methodology to determine the true cost of disease – you name a disease, I did a study on it – and that methodology is still being used today," she said when asked what she was most proud of in her impressive career.
She and a colleague also developed a way to calculate an economic value of the work of women working as homemakers.
"She looked at all the things a housewife did during the week and how many hours she spent doing it and looked at the market for each of those components," said Rice's son Thomas Rice, a health-policy professor at the University of California at Los Angeles. "She wasn't just taking stuff off the shelf. She and Barbara Cooper were inventing solutions to problems that others hadn't dealt with before."
Later on, at the School of Nursing at the University of California, San Francisco, she did research on the financial costs of cigarette smoking. One of the studies in 1998 concluded that smoking-related illnesses cost Medicaid $12.9 billion a year. The study came out when the tobacco industry was negotiating with states over the costs of smoking. They finally reached a settlement of $250 billion over 25 years.
A Shining Example of the Value of Public Servants
Rice was one of the public servants whose work made a difference in the lives of their fellow Americans and others around the world. Every day, federal researchers and scientists, notably at health and safety agencies like FEMA, CDC, EPA, the VA, and HHS, are finding new ways to save lives.
In 1960, for example, the first cardiac pacemaker, developed by a VA team, was successfully implanted. In 1984, the nicotine patch was developed by VA researchers Dr. Jed Rose, Dr. Daniel Rose, and Dr. Murray Jarvik.
Then there are dozens of Nobel Prize winners who are, or were, federal employees, including:
AFGE salutes all Americans who have answered the call for public service and inspired us all.
#womenshistorymonth        #knowyourhistory          #girlsrock        #whorunstheworld